These Eclectic Fine Art canvas prints are Dreams entering your home and office décor. Prints that are gateways to Inspiration, windows to a mystic realm of Beauty, exquisite Art and High Spirits.
These Fine Art canvases are unique, and they are created with state of the Art designing tools, and refined through talented skills and inspired efforts. It is a magical blend of designer directed technology, dedicated artistry and intuitive painting technics.
This special process ends with very authentic dream-works, captured with unique beauty and mystical atmosphere. Each print is a visual archetype, a focus point for delicate sensations, a magical work of Art.
The printing facilities I've chosen are the finest and the best in the field. Based in Montreal and New York, they offer high quality canvas prints that are shipped worldwide, using the safest packaging.
All canvas prints come with the signature of the artist on the back, and with a Certificate of Authenticity.

Display these unique pieces of Art in your home or office, like windows to beauty and mystical spirit. Timeless visuals that will be admired and catch the eye and heart of all. A unique sensual atmosphere to any room.
Prints available for direct order
Babylonian
Femme
Fatales
COLLECTION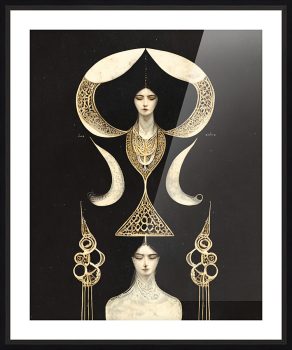 Prints available upon request